We add some things to our decor to increase beauty or due to differences in preferences while some items are just simply essential such as a soft living room couch or canvas pictures on the walls. There are further changes that we don't normally thing of but they must definitely be a part of the decor in ever house to enhance it in one way or another.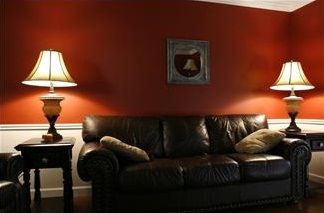 Use Trays To Organise
Boxes, cupboards, shelves are used for organising items around the house, nobody wants a cluttered look as it can be distasteful and make a good sized room appear smaller. Trays are decorative storage items that can be placed in bedrooms, on coffee tables in the living room or along the sink in your kitchen to tidy up items. They can be used to add colour or print to your storage and can easily hold a vase, TV remotes and maybe some fresh fruit for the living room while dish cleaning utensils can also be neatly held in the kitchen.
Hang Up Children's Art
Children's art is not only suitable for a children's bedroom but it can be displayed anywhere in the house especially hallways, kitchen or living rooms to liven things up. It's important to understand that these imperfect pieces of art a full of spirit and meaning. If you are a canvas fan you can always take a picture and get a print on canvas or they can simply be framed up using stylish or colourful frames.
Bring In Plants
The importance of keeping plants indoors cannot be stressed upon, they go along with any colour scheme, they bring a bit of nature along with its freshness indoors and they are increasingly gorgeous. You can plant your own herb garden which will be very useful for cooking or simply go for a stunning plant to fill up any table or corner. Plant pots can even be decorated to add colour and they can be embellished for added texture.
Add Mirrors To Walls
Mirrors are shiny pieces of glass and on their own are gorgeous to dress up any walls, they further can be made to look even more stunning if decorated with stylised frames or given embossed or bevelled borders. There is no room that is not perfect for mirrors and the bigger they are the better. Apart from their beauty they also successfully serve a purpose in altering room orientation and they can reflect and make any small or normal sized room appear bigger, thus they are must haves for any small space. Further your guests will feel special when there is easily a mirror around where they can easily view and adjust their image.