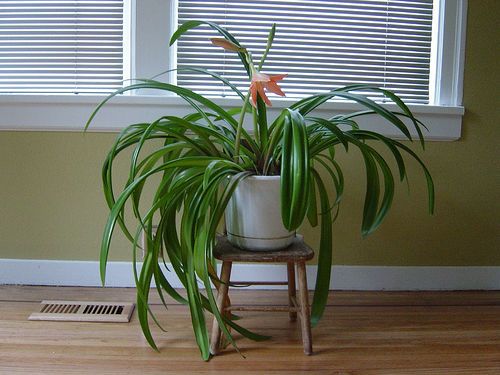 Houseplants are known as interior decorating tools that jazz up rooms, but did you know they help allergy sufferers or asthmatics? Houseplants remove toxins from the air. Toxins are exuded from aerosol sprays, fabric upholstery, carpets and other things. Houseplants return pure oxygen into the air. This is then inhaled, nullifying the adverse effects on the body from inhaling toxins. Houseplants were first considered by NASA for use in the space program for protecting the astronauts from illness. Now, they are considered more than just a pretty decoration.
Palms
The Areca, Bamboo and Lady Palms are air purifiers that flourish in both dry and humid areas. They trap allergens in their leaves. Dust mites, pet dander and pollens are removed from the air and clean oxygen returned. This has benefits other than allergy removal. Exposure to plants in early childhood acts as an immunization shot to young children. They will grow up with a stronger immune system. Palms also target formaldehyde, benzene and carbon monoxide. Smokers in the house won't bother anyone when the palms suck up the toxins from the smoke.
Orchids
Famous for being finicky plants, the truth is orchids get along just dandy with as little care as watering them every now and again and putting them out of direct sunlight. These beautiful flowers vacuum the air of xylene, a toxin found in many paints, glues and leathers. Orchids perform their magic at night, which makes it the perfect houseplant for insomniacs. Plants also lower blood pressure, making sleep easier for those that are stressed. Placed beside the bed, orchids will help those troubled by lack of sleep.
Peace Lily
A further boon to allergy sufferers and asthmatics is the Peace Lily. The plant decidedly likes chilly temperatures. It just as decidedly dislikes acetone, ammonia, benzene, ethyl acetate, formaldehyde, methyl alcohol, trichloroethylene and xylene and removes them from the air. This plant would be best placed in bathrooms for its ability to absorb mold spores. Also, some personal grooming products include the toxins listed above and are primarily found in bathrooms. This plant would eliminate toxins and other pollutants that cause headaches and some allergies.
Ferns
There are many types of fern but Boston Ferns are the most popular. These feathery, lacy plants are usually hanging plants. Ferns cleanse the air of toluene and xylene, toxins found in paint, nail polish and glue. Those with dry skin will also benefit from ferns. They trap pollutants in their fronds and release moisture into the air. Indeed, houseplants are natural humidifiers but ferns top the list.
Ivy
Ivies are beautiful plants, often found in hanging baskets or trailing along the top shelf of tall bookcases. These versatile plants absorb the toxin benzene, which attacks the nervous system. Ivy plants are found in many offices, mainly because they look great but are out of the way. Good thing, too, because they facilitate clear thinking and problem solving.
For a range of beautiful pots to place these indoor plants in, check out the latest The Warehouse catalogue. They have a large range at great prices.
– Written by David Teller