A homeowner should first decide if a pool is the right thing for their property. Then it is just a matter of deciding what kind of pool they can afford and deciding on a contractor to build it. There is a lot of effort involved in building a pool, but the return in fun and benefits makes it worthwhile.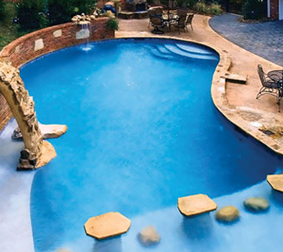 Zoning Restrictions
Zoning restrictions will affect everything about your new pool. They will decide if it is possible to have one at all. The zoning laws may determine where your pool is placed, how big it will be, and what type of safety features are implemented. It is possible that everything from the decking built around the pool to the liner in it will fall under a zoning law of some kind. Everything will have to comply with building, health, and safety codes in your area. You must check your deed against possible deed restrictions. Your local Homeowners Association will also be involved in your decisions about the pool and pool fencing options.
Above Ground Pools
Your budget and the size of your property will impact your pool building decision also. Homeowners with large lots are able to place their pool freely. Those with smaller lots must choose their location carefully. Above ground pools are available in large sizes and the cost of the better pools is between $1,000 – $8,000. These pools usually require decking be built around the pool. This increases the cost considerably.
In ground Pools
An in ground pool requires excavation of your property. The resulting hole is lined with a concrete mixture. Then the homeowner must pick a liner for the pool. A number of quality vinyl liners are available as are one piece fiberglass liners. The one piece liners are more expensive, but more resistant to damage. Other homeowners opt to build the entire pool from concrete. This type of pool will last over 15 years before needing serious repair work. An in ground pool will cost between $20,000 – $100,000 depending on how elaborate the pool.
Pool Accessories
A swimming pool pump to keep the water circulating is necessary. This helps the filter keep the pool clean. Some furniture is desirable to make it more comfortable. After installing a pool, some landscaping is often needed to make the area more scenic. Insurance and safety regulations can require fencing and additional measures to increase safety and reduce liability. These types of things can increase costs $10,000.
Maintenance
Routine maintenance of the pool is necessary. This only requires a few cleaning items and a supply of chemicals. The chemicals will cost between $50 – $100 a month depending on the local climate, frequency of cleanings, and the size of the pool. Vinyl liners last five to seven years usually before needing repair. The concrete types last around 15 years before needing replastering.